Thu, 07/11/2019 - 18:55
"We are united and together in the protection of the Caspian Sea" - coastal clean-up campaigns were organized in Azerbaijan
Within the Project "Addressing Marine Litter in the Caspian Sea Region" implemented under the auspices of the Framework Convention for the Protection of the Marine Environment of the Caspian Sea, the celebration of the Caspian Day in Azerbaijan was largely devoted to increasing public awareness on the protection of the Caspian Sea.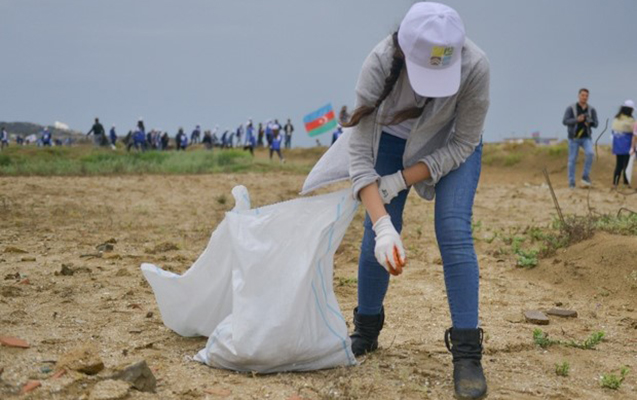 The main objectives of the Caspian Day activities are based on the goals of pursuing a change in people's perception of environmental protection, of developing public participation in solving Caspian Sea problems, and of educating society on best available practices in environmental management. 
Coastal clean-up campaigns dedicated to the "Caspian Day" under the motto "We are united and together in the protection of the Caspian Sea" to clean off the seashore from plastic and other wastes in Buzovna beach in the coastal shores of the Absheron Peninsula, on the cost of the Sumgait city, on the cost of Lankaran and Masalli region (southern coast of the Caspian Sea), on the coast of Absheron, Shirvan and Gizilagac National Parks, on the cost of Salyan region and on the cost of Kachmaz region (northern coast of the Caspian Sea) the  been conducted. 
The campaigns were held with the participation of MENR and its subsidiary agencies such as; relevant Regional Department of Ecology and Natural Resources, Absheron, Masalli, Lankaran and Guba Regional Forestry and Seeding Department, three National Parks administrations (Absheron, Shirvan and Gizilagac), Khilli Sturgeon Hatchery, Azerbaijan office of REC Caucasus, parliamentarians, intellectuals, academicians, prominent cultural and art figures, volunteers, youth, representatives of industry such as "AzEkol" LLC, "Tamiz Shahar" OJSC, "Azersun Holding" LLC, Housing and Communal Services Association of Sumgait Executive Power, local municipalities of Khachmaz region and as well as local people. All the leading Mass Media representatives invited to the event and the entire event was covered by the mass media to convey our message of environmental awareness to a wide audience. 
In total, around 400 people are involved in these campaigns. 
The events aimed to increase the public's role in improving the environmental condition of the Caspian Sea and its coastal zones, thus driving the attention to the marine litter issue of the Caspian Sea and enhancing cooperation with the public and local communities.
During the action, about 10 hectares of area was cleared off, approximately 5 tonnes of plastic and other municipal waste, collected, sorted and transported accordingly to waste landfills